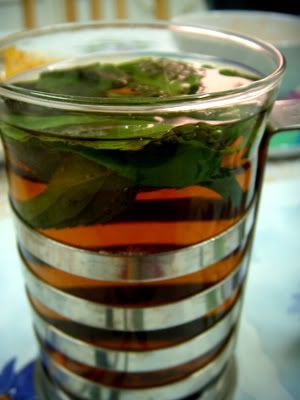 I have different type of tea in my house. We have cammomile, earl grey, russian earl grey (what's the difference?), white tea, vanilla tea, forest fruit tea, lemon tea, rosehip tea and verbana. Oh and normal tea. Let me correct, I have different flavored tea. This is all Haziq's doing. He likes them so much, he insisted we get them. Last Ramadhan he even typed out and printed out schedules of tea for breaking fast everyday. I had to negotiate to make milo, chai (tea with milk or teh tarik) and coffee.
I tried masala tea with lover, but he doesn't seem to like it. It is your normal tea with mil, preferably thick ta and evaporated milk. For masala tea, you just add cardamom when the tea is brewing hot. Over here there is even evaporated milk already with the taste of cardamom. I must say it is an acquired taste. Lover didn't like it.
Now lover is so into a new flavoured tea. Mint tea.
Mint tea is just so easy to do. To make it is really as the name suggest. Tea with a few mint leaves. It should be drank hot with medium tea thickness.
And in a hot summer night, after a good dinner, I find this very refreshing.
Any other tea you want to suggest?