As you all know by now, I am the self-proclaimed domestic goddess. I have to admit that despite being place in this stature I still have my days. (I am trying to avoid the word lazy here. Wouldn't want Tony to shout at me. heh heh). But truth must be told, there are times that I really do not feel like cooking. But because of my natural nature as a domestic goddess, I plan these heavenly days. All are calculated, well except when I fall sick.
I usually choose cooking day off on Thursday when we have our fortnight meet up. And plus Thursday is the last day of weekdays here. Still I have to whip up something for pot luck. Ahh the things that I have to do here.
I usually take the kids out to the mall for lunch and do some window shopping and stuff. I do enjoy these trips and let the kids let loose sometimes.
One of the lunches we had there, the kids were playing I-spy. I listened to their game and laughed when the question was too easy and still cannot be answered. Then I feel like treating them for an ice cream. But because I love torturing people, even my own children, I decided to join in the I-spy game.
So I said, "I spy with my little eye a "Hand throwing rubbish"".
Eh?
Hand throwing rubbish.
What is the person wearing?
No person, just hand throwing rubbish.
Hand?
Yup! Just hand.
Is it a word or a picture?
A picture of hand throwing rubbish.
is it near or far?
*roll eyes*. It's near.
clues we want clues.
Those are good enough. Hand throwing rubbish.
Can you guess? If you can, I'll get you one McDonald's ice cream whenever our path do cross.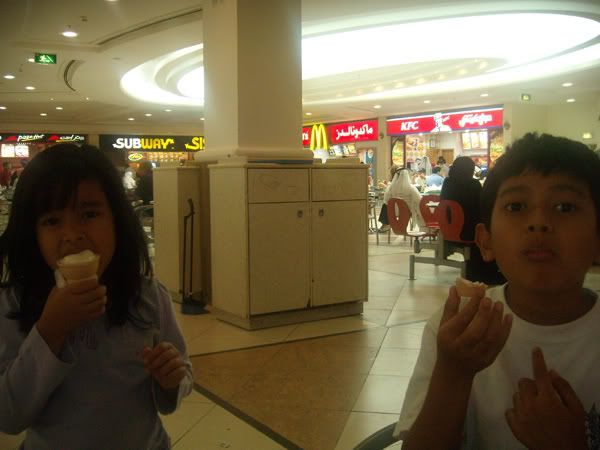 Picture taken while eating ice cream. Obviously correct answer given. You can get one too.