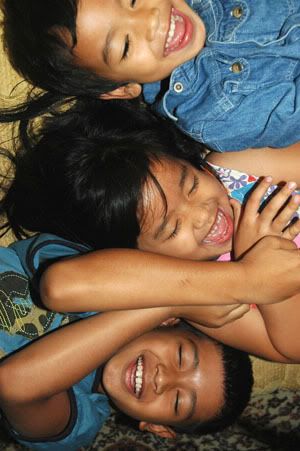 And someone has to tag me with this what you name your kids name. Thanks to screwboy and Nazrah baby. I contemplated writing this post for you will know that I made a mistake. A mistake costing another person's life long identity. :(.
If everyone else write in full glory of what they went through naming beautiful names to their children, I had to live my life slightly regretting how I name them.
First of all I do not have a theme of naming my children. Whatever suits my fancy goes. Perhaps this is the reason the mistake was made in the first place. What I wanted for my first two kids was something which means clever, so I scoured the name books. Haziq seemes like a good name. It means clever. And what more it rhymes with my lover's name. So haziq it is for my first son.
And because my lover had an Abdul, and I wanted to rhyme Haziq's name to lover's even more, add with the feeling of so much love for my lover and such an overwhelming feeling of love carrying his son, I put an Abdul in front of Haziq.
MEGA WRONG!
I feel like killing myself now! Stupid! Stupid me! Haziq is not a God's name (I was told that it is wrong to put an Abdul when it is not a God's name since it means hamba). I had nine months and even more since Haziq was an overdue baby and yet I wascareless enough to put an Abdul in front of his name.
Being in Arab country makes Haziq's name even more apparently wrong. I have received frowns and smirks when I mentioned his name. So much that I just drop the Abdul altogether.
So I am thinking of changing Haziq's. Just Haziq minus the Abdul. I am pestering lover to get us do it. The latest when he changes to IC. The only setback is they would still retain his old name. Then on his new IC and passport and whatever formal documentation would have this Haziq@Abdul Haziq. Like an email address. Bahhhhh!
Stupid me! Stupid me!
Batrisyia, meanwhile, is just Batrisyia. I have no problem with her name. I was worried she would have a hard time spelling it, but she seems ok now. I only had to educate her teachers. They kept spelling it Patricia.
Now Zachary's full name is Ahmad Zachary. Smart now eh no Abdul? I ran out of names which means clever and plus I was so into reading the stories of prophets when I conceived him, and I seem to like that name. (Prophet Zachary) The only thing is nama Zachary ni ramai pulak orang Yahudi guna. We are bias lots aren't we? In fact many of our prophets are Yahudi. Can we not use their names? I am not good at arguing this. Macam threading on thin line and cetek ilmu sebenarnya.
Cuma of courselah we Malays don't name our kids Aaron, Moses, Joseph, david. I understand that it is probably better we use the names yang lebih mirip dalam penggunaan AlQuran. Thus I guess I am guilty of that. And I had to use Zachary. This is because I didn't want to use Zakaria since many of my friends got doses of name calling of the first two syllabus of that name. And I allowed myself to conform to that. I should have known better.
And I admit, i wanted to glamorise that name. *Hangs head in shame* In fact if I had another daughter I would name her Hannah, and Eusoff for another boy. I am sticking to Ahmad Zachary. I like his name.
This is a difficult one to write for I am openly admitting my mistake to all of you. Hope you won't make the same Abdul mistakes.
Let me reintroduce my children to you
Haziq
Batrisyia
Ahmad Zachary
The best thing that ever happen to me.