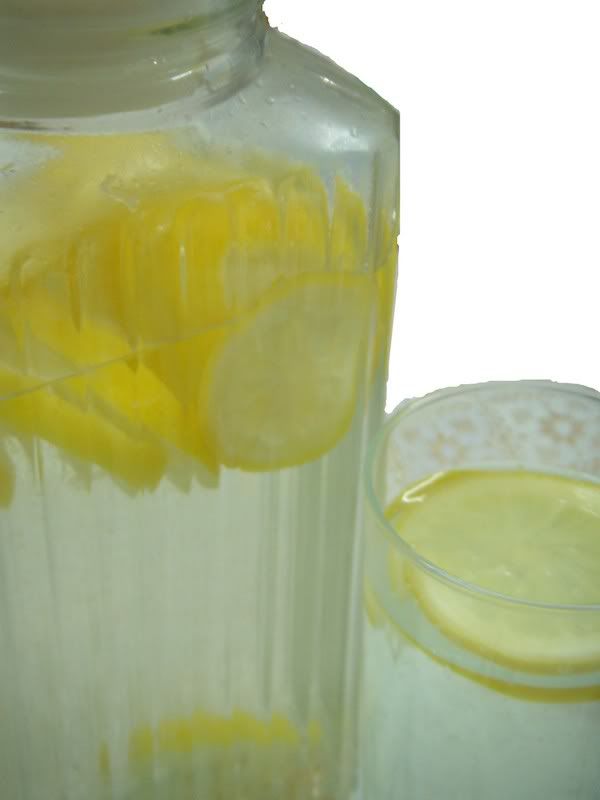 I usually prepare bottle of drinks for the kids when I picked them up in the afternoon. It is a refreshing coolness after a sweltering day outside.
I use to prepare some apple juice or mixed fruit juice or blacberry juice or strawberry juice or mango juice for them (fresh from the bottle). But after sometime, I realised that they are packed with loads of sugar too. So, after that I diluted their drink. This didn't work much for Sya because she obviously turned into a sweet tooth girl, drank the undiluted one when she got home.
Continuing from my new year resolution, I decided this time round we would reduce our carton juice intake. Perhaps only 2 bottles a month (iya ke ni?). So instead of the sweet juice, I brought plain water for them.
I know they wanted some taste especialy after drinking a bottle of plain water in the school. So what I did was to chill the plain water and to sliced up some lemons into it. So the plain water now have a zest of lemon instead.
Sya at first thought it is sour. She hates it. I know she wanted sweet taste.
Then I started to improvise (I am not sure whether it is actually improvise). I squeezed more lemon into it and also sliced some of them into the pitcher. Some sugar and sprinkle of salt. Have it chilled. And suddenly we have a fusion of lemonade and plain water. To have real lemonade drink, I need to squeeze more lemon which I am lazy to do.
And now I crave for this drink after I finish up all the labourious housework. After a mug of hot milo during iftar. Piching the leftover kueh.