I went to B@hrain on the second day of the trip. Elisa, a goddess that she is, prepared mee hoon, nasi goreng and cucur udang to take over. Cucur udangnya sangat sedap.
What was I expecting to learn and see in B@hrain? Actually nothing much. I expect a modern city with impressive buildings built on congested reclaimed land. I expected a country which consist more expats than locals. I expected an expensive country. A country sterile with modernity.
True the country reclaimed a lot of their sea. Their skyline spurts impressive buildings (not as much as Dubai and Qtar though). Among two modern buildings (that I manage to take photo off) are the World Trade Centre B@hrain and B@hrain Financial Harbour. From far the WTC B@hrain looks like Lord of the rings tower where the big Lord Sauron's eye is.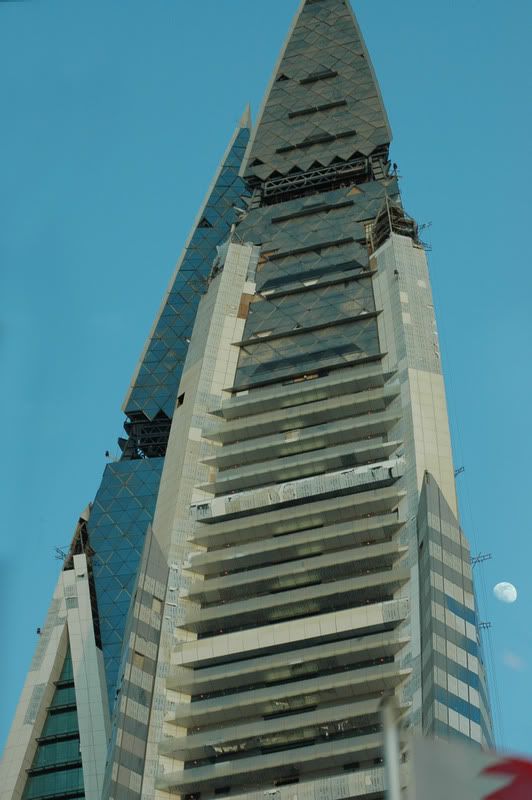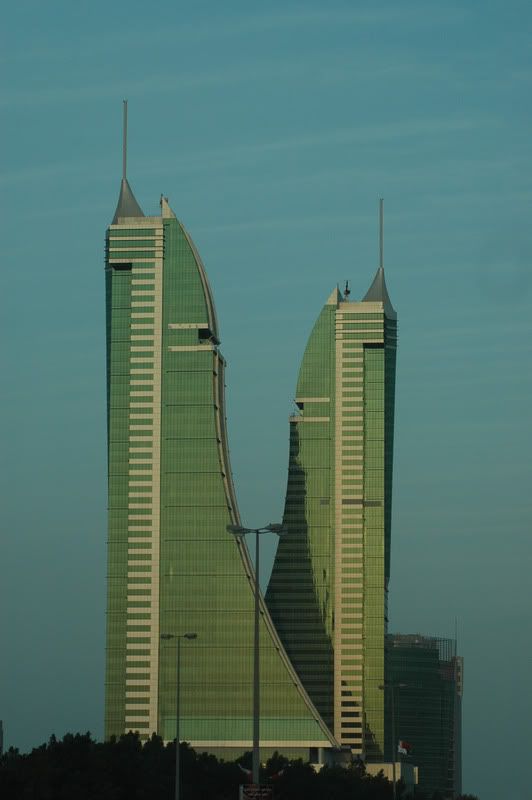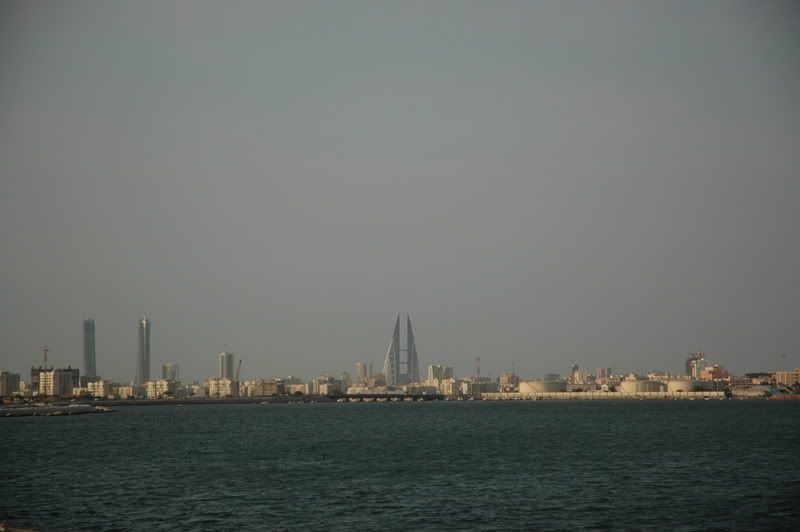 However the country is not as expensive as Qatar. And B@hrain also offer things to see and history which was part of Mesopotamia. B@hrain seems more fertile than Qtar. I read somewhere that it has reasonable well water source under the ground.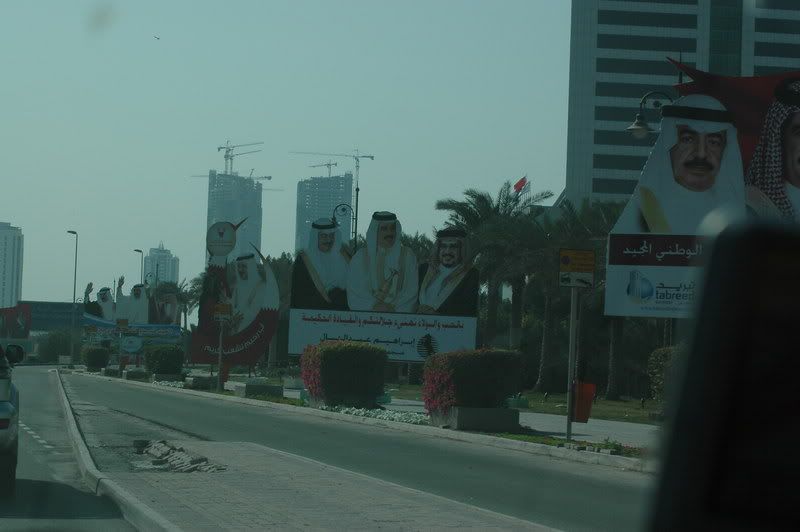 And if you didn't know how the B@hrain ruler looks like, you will when you get there. King Hamad bin Isa Al Khalifa picture is everywhere on the huge billboards. Some serious looking, some smiling, a few of the Majesty's side profiles, on the horse, praying and many more posts. I know which one is the King, but I am not sure who the other two men are.
When we were on the way to the Al Areen Wildlife park, we passed through smaller town. There were graffitis on some of the buildings. Nothing like what you see in the states though. More of writings in Arabic font. But I must say the writings are quite nice. I couldn't take a proper picture though, because Jack was sleeping err on my lap, and my lens was too long for the close distance I was.
There were "FRU" like guarding certain part of Manama on the second day we were day. There were riot sometime in the middle of the year. Perhaps there were anticipating a new one. Apparently the majority of its people are Shias while the ruler is Sunni. But I don't know. Read one of the news (perhaps exploited)
HERE
.
We went to the Al Areen Wild life park. That is about 30km from Manama. Pity there were no shuttle service in the park when we went there.Without the service, we could not access all areas thus we didn't get to see everything. Baaahhh.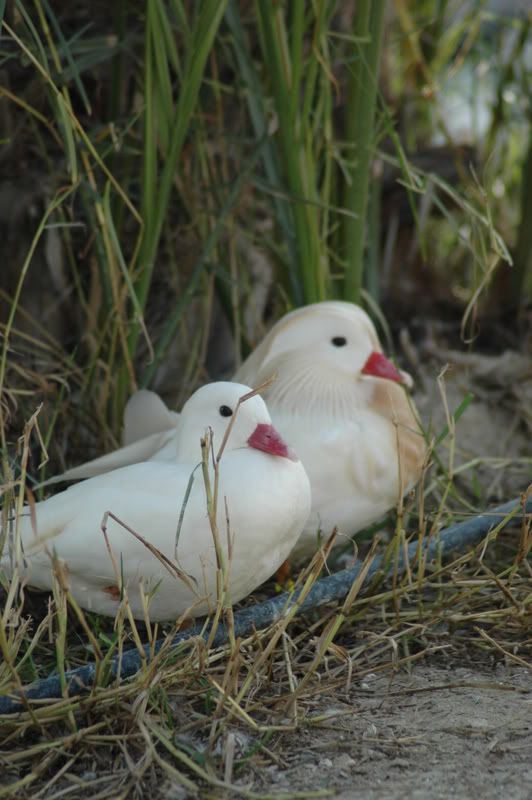 Its nice taking the kids to the zoo. They enjoyed it particularly because they had their friends with them. Izani enjoyed it too and refused to be carried nor put on the stroller. Cute gila.Best tau tengok bebudak aktif ni. We were starving there and gobbled up Elisa's cucur udang and her fresh new bottle of chilly sauce brought from Qtar.
On the way back we took photos at the B@hrain International Circuit or F1, where Elisa once nearly lost her F1 ticket. He he.
In B@hrain we stayed at an apartment, courtesy of Mr. Taufik. The apartment was really nice with the view of the sea.The furnishings were superb. Oven ada. Microwave ada. Stove ada. Fridge built in cabinets ada. Semua adalah. Dish washer pun ada. Penyapu aje tak ada.
When I told my friends I am staying in B@hrain, they would say ayoo hotel mahal. What is there in B@hrain anyway? I said I am not staying in a hotel. Or at least I am not paying for the accommodation. he he
On the second day we were there, eh eh eh..the entry is becoming too longlah. I'll put up another entry on Bahrain Part 2.
Pictures of a bit of B@hrain
HERE
And at the Al @reen wildlife park
HERE
.