This is a cerita basi but I feel like writing it. Otherwise it will go unrecorded. :D
We had an overdose on oxygen the last summer we went home to Malaysia (i told you memang cerita basi). We went to Taman Negara!
Prior to going, I receive lots of tips from the Elisa Clan. So I took most of the tips. I stayed at the hotel they suggested. Which is
W00dland Resort
. Look out for special promotion. We didn't take their package instead we took the one outside. We sort of saved here and there. Hotel is reasonable but food a bit on the bleargh side. No let me correct that, a lot on the bleargh side. But then if you are on an adventure get going vacation, food should not be the biggest issue (to me lah).
But tell you what, we found this warung for lunch, slightly further from the resort, like kena patah balik, which sold some fish tak tau apa nama, masak tempoyak yang rasanya beyond this world. Seriously, I am not a fan of masak tempoyak, tapi mak oi sedapnya lauk makcik ni. lauk kicap pun sedap. It is at the tapak pasar malam (which is on Wednesday night). Sigh teringat-ingat ni.....sedapnyaaaaaa.
Anyway the night we arrived, we went to
NIGHT WALK
activity. We were supposed to stumble upon exotic animals and insect of the rainforest. But what do you expect when about 10 people stomped the noisy trek? All animals would have scrambled away. We found some insects though..giant millipede, a pair of mating praying mantis (their love making lasts about three weeks and will end with a tragic death of the male, killed by the bitch mantis), big timber ants, big spiders and ular daun. Basically we found only insects that can scramble a mere few mm away. We also smelt sandalwood (kayu gaharu).
But at the watchtower we saw some deers. My lover suspect those are herded deers. We also saw an owl drinking from the salt lake. The salt lake is good for the animals antibody (so they say).
Zachary knowing that we are looking for animals in the dark with the help of the torchlight was excited as well. Suddenly he shouted, "I found something!". And we all huddle (the mat salleh and all) against his small being, only to found small black ants trailing its path. Hahahhahahaha! Everyone loves him immediately.
I would recommend you to take this activity especially if you have kids my age. Bila lagi nak jalan malam-malam and drench yourself in sweat. Even though you'd say to yourself (if you are Malaysian, especially if you have stayed in kampung), apa bendalah ni, but your urban kids will love it.
The next day we went to the
canopy walk
.
You see, I have been camping at Taman Negara like 19 years ago when I was very active and very fit. If you are in mukabuku, you can see my tagged photo of the trips I went. You're also allowed to laugh your head off looking at my supposed to be cool look back then.
Anyway the canopy walk was not of existence then. So I was more than jakun to go. Not bad! I enjoyed it. But I was pespiring like crazy. It was really humid.
Here are some photos. Hmm but it is actually difficult to show the depth in photos tau. I hope these photos do justice to the height of the canopies of Taman negara.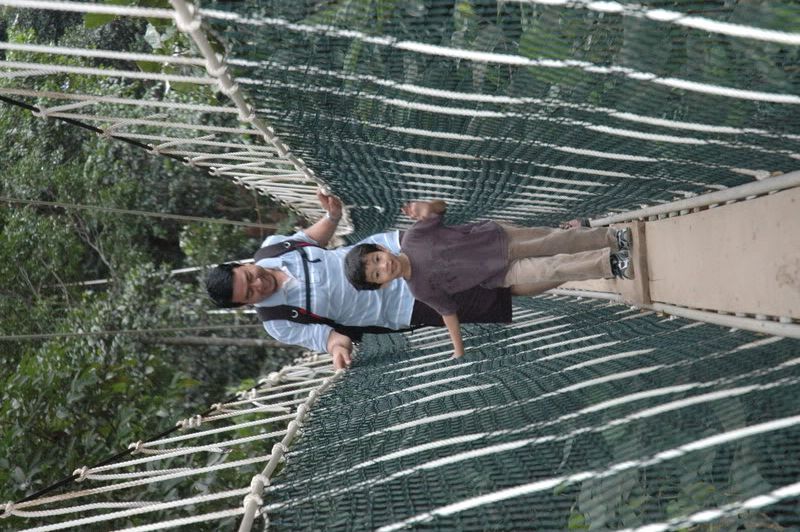 I would recommend everyone to go here. Appreciate the canopies of rainforest
.
The canopy walk package also includes trekking up the Bukit Terisek. I remembered 19 years ago, trip to Taman Negara was a laughable trip. kacang gila! Apa ni? Tak mencabar langsung. makan angin aje. Assuming the same, I went up trekking. After all bukit je kan?
But adoi, it was trekking almost all the way up. Sakit peha! sakit betis! Adoidoidoi!
But the kids were practically running up. Worse when we trekked down. they took the route with stairs, which was terrible in my opinion. My thigh muscle, which was near non-existence, were screaming. And Zachary ran all the way down!
But overall it was a good experience indeed! Balik terus terlepek.
Oh they showed us some stones that can be rubbed with bit of water and produce some colours. We coloured our faces and we all look macho going down the hill. Walaupun kaki sakit. Surely most of us dah tengok ni masa kecik-kecik kan?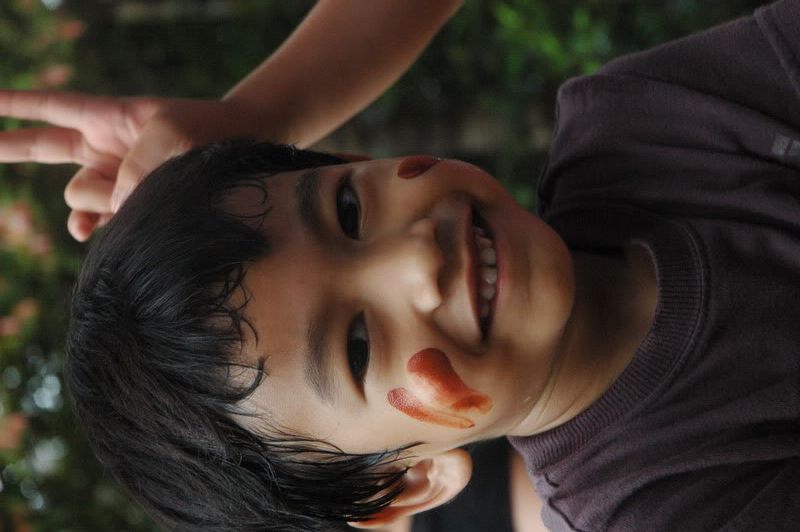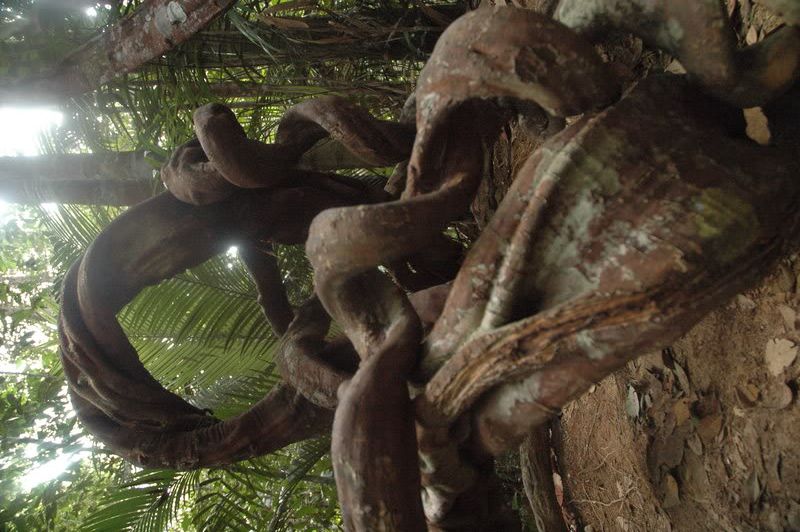 I would recommend this trip if you are generally fit. Kalau orang pernah masuk wataniah, this is like berjalan-jalan kat belakang rumah aje. I wouldn't recommend if you small children which is clingy or if you have a baby. Kalau sanggup nak dukung all the way up and down, teruskanlah.
I read in one of their notice boards, if you manage to climb Bukit Terisek, you are well on your way to trek up Gunung Tahan. err I don't think so! Gunung Tahan has about seven hills to climb. The hills are tough with steep ridges. Tak apalah...
Man this is such a long post. I have a few more days of the trip to tell. Sambung next postlah.
Here are some photos of the Canopy Walk and Bukit Terisek Activity.