Haziq turned eight yesterday. We didn't do any party because he has a lazy bum for a mum. But I made fish and chips (from scratch I tell you. The batter was crispy and hmm quite good. Angkat bakul boleh?.) Haziq is such an easy boy to please when it comes to my cooking. He would go "Ohh delicious! You are the best mum in the world!" Then big hug big hug. Followed by hugs from the other two. I know his favourites by now. On top of my head is peanut sauce. I make salad with this (ala gado-gado) sometimes. My nasi minyak with dry, thick curry. Chicken soup. Hmm what else ah? Don't knowlah. Itu je yang aku masak kot...
Anyway, we went to Chillies that night. Haziq was impressed by their service and said something to this effect, "Chillies : Where you can dine like Kings!" and slurp down his thick shake. He actually said dine! We taught him tic-tac-toe and tell him to see things in a bigger picture. Not only his last move. I am not sure he understands what I mean.
Since this blog is also dedicated to my children, I'd like to put up what I think haziq has done well now that he is eight. So bear ajele Ibu dia punya gloat ok.
Each time after finishing lunch, I would tell haziq to take his ablution and go pray Zuhur. He would take out his prayer mat and my prayer mat and my telekung and all, put it next to each other ready for me. I like this very much. Then when he finishes, he would routinely take out the Koran and be ready for me. All the time. Regardless he was pinched yesterday for repeatedly wrong "Idgham". Bless the child.
Haziq is a very attentive child. He is always very perceptive with my mood. And would caution his siblings when I am in my foulest. During my one month ordeal when my mum was in the ICU, he was my strength. Always there to hug me and even cry with me.
He is scared of the big cockroach but bring lizards into the house. A live one that is. EEeeeewwwwwwwwwwwww!!
He asks questions out of context. Out of the blue kind of thing. Remind me to make a catalogue of his questions. Yesterday he asked me, how did the tortoise/ turtle's shell grow bigger as they get older. He also asked while I was chatting with a friend, will the centuries ever stop? What would happen to earth then? Sometime ago he asked God makes us right? Who makes God? Hmm what else. He said I know where the moon get its' ray but how did the shape form into crescent and full circle and all that? And he is forever asking me maths question.
He is a vain boy. He combed his hair either spiky or with
jambul
(what is jambul in english ah?). And despite that he still runs out naked from the shower. In fact he took such a long time putting on his clothes that I threatened him with the camera.
Otherwise, he is quite eccentric as well as friendly. He is still a chatterbox and love to make friends. He'd be your friend anytime.
I just want him to not be as clutter as he is now. Also he is
gelabah.
I pray the best for him and that he remain a good person and good Muslim for the rest of his life. And from the little I shared with him now, I hope he makes something out of that for himself and the coming generation.
Ibu loves you tremendously.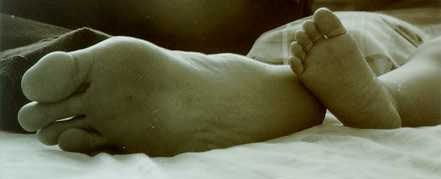 His dad's and his few months old foot.
Read also :
Haziq is Seven