Well, at least to certain extent.
The ASS organised a family sports day last week. Tee he he. I get to take pictures of sports day for I remembered to bring my camera. I am the official photographer anyway, haruslah ingat.
It was an exciting day I must say and I, lollies, live for excitement. I asked the teenage girls to paint, or scribble more likely, my face blue. Dino on one cheek and a blue scratch on another. I asked to make sharp teeth as moustache as well.
One of the ladies laughed at my antiques, and said hey you never haveyour own photo. You should look at your face. Then she took a photo of me, using my camera.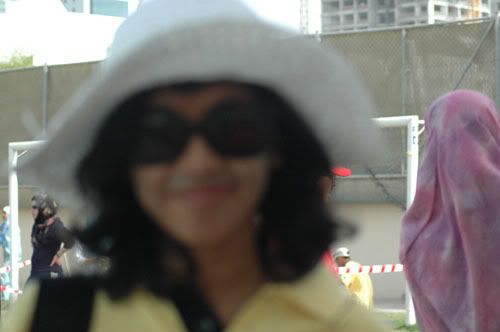 I tell you, I am jinxed.
Anyway I would have looked like this. Just add the sharp teeth as moustache though...and err minus the clean baby skin. Gulp.
However, I am not entirely happy with the photo collections. It was quite difficult to take photos as dynamic as a sports day actually. I had the evening sun which is not an advantage especially if you want to use fast shutter speed. But speed any lower would make the picture ghostly. I also had to fight for shots with eager crowd. If I use the telezoom, I had to sit far. If I sit far, people will block me. If I use the wide angle lens, I won't be able to catch the face expression.
Banyak hallah gua.
But I love the vibrant colours of the day.
Click
HERE
for more picture of the day.